March 02, 2015 08:30 AM Eastern Standard Time
OKINAWA, JAPAN — Lexues Inc. and The Vermeer Center Ginza Executive Committee provided the AR app to the Vermeer: Realm of Light Exhibition that is being held in New York and Tokyo. The mystery of Vermeers that have been handed down in many ways by word of mouth have been inspected using digital technology, and the key to solve the mystery is offered to visitors using 3D computer graphics and AR (augmented reality). Visitors will be able to appreciate art in a whole new way, such as stepping into artworks using smartphones.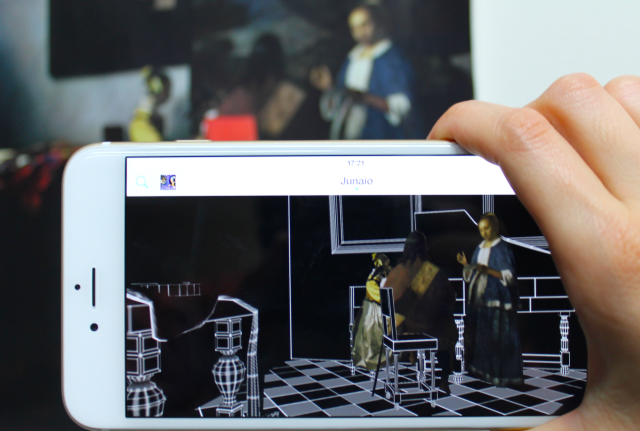 Vermeer is a world prominent painter, who is famous for various masterpieces starting with the "Girl with a Pearl Earring". But he is also known as the painter with many mysteries from the little literature on Vermeer, and his very carefully thought out and accurate compositions. We have selected artworks that were especially interesting from all 37 Vermeers that are exhibited at the "Vermeer: Realm of Light Exhibition," which is being held in New York and Tokyo. Out team scientifically analyzed and inspected the mystery of how Vermeer produced his works, and prepared an AR app with which visitors can enjoy revealing the mystery using their own smartphones.
Until now, works of art have been limited to the exhibition methods using either panels or TV monitors along with explanations by audio guides. But this exhibition offers an unprecedented way to appreciate art, with which anyone can enjoy a new fascination of the artwork while easily operating a smartphone.
Exhibition Information in New York
Title: "RE-CREATE NYC 2015"
Period: February 24, 2015 to March 21, 2015
Place: "Openhouse Gallery," 201 Mulberry Street, Soho, New York City
URL: http://re-create-art.com/
About Lexues Inc.
Along with our strength in UX/UI design, Web design, Web application development, planning and development of application for iOS/Android, and providing cloud services, Lexues Inc. has had many achievements in proposing use of AR technology to Japanese leading enterprises of each industry.
Contact
Yo Yasuda
Email: contact@lexues.co.jp Phone: +81-98-921-3800